The House of the Mithraeum of Menander was built in the Hadrianic period (opus mixtum). It is situated to the west of an alley in which the Mithraeum of Lucretius Menander (room 12) was installed. The building was excavated for the most part in the years 1931-1934.
The west part, along Via dei Balconi, consists of shops (1-3 and 5-7) on either side of an entrance hall (4) with an external staircase. The entrance hall leads to a vestibule (10) with high windows and doorways in the lateral walls. Apparently this vestibule did not have a roof, and provided light to large halls to the north and south (9 and 11). In the east wall of the halls are more windows and doorways (originally also windows). The halls presumably had a commercial function.
In the second half of the second or the early third century some modifications took place (opus vittatum). Small rooms were created in rooms 4, 9, 10 and 11. One of these, room 10b, has a curved wall. In the north-east corner of room 11 a basin was set. The rooms were decorated with paintings and black-and-white mosaics. On the floor in front of the curved wall of room 10b two dolphins flanking a kantharos are depicted.
In the south-east part (room 8) is a very large oven. The date and purpose are unknown. In the east wall of this room is a blocked doorway, in the west wall a large hole has been hacked out.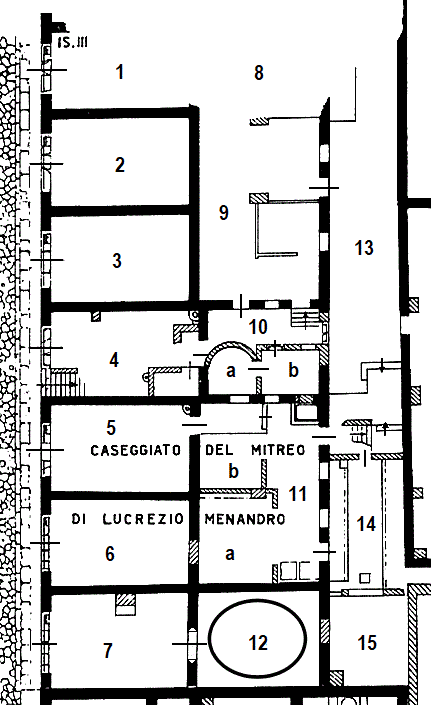 Plan of the building.
Oome 2004, fig. 2.