Description
There are many centralized stones and a few cornerstones in the piers of the porticus. The piers have been numbered I-XII. We will begin with the description of the centralized stones, in the inside of the piers.
The centralized stones are found as pairs of stones low and high in the wall, and as single stones at mid-height. Normally a stone at mid-height (indicated with a blue line on the plan) is opposite a low-high pair. The rhythm is broken at pier XII however (stones 261 and 262), where there is a change from LH-M, LH-M, to M-LH, M-LH. Opposite pier II east, LH (nrs. 231-232), is another LH, in III west (nrs. 233-234). No stones have been preserved in IV west, and in IV east a low stone only (nr. 237).
Cornerstones are found in the jambs of the entrance of the accentuated room in the east part of the building. There are three in the north jamb, low, mid and high (nrs. 244-246). Two stones have been preserved in the south jamb, low and mid (nrs. 242-243). The upper part of the latter jamb is modern, and most likely there was once a high stone here as well. The stones at mid-height are considerably larger than the others. The northern one at mid-height was slightly set back in the wall, towards the north, together with the brick layer above and below. Particularly interesting is the low stone in the north jamb (nr. 244). In the east part of the south side are two holes with metal, that deserve some further inspection. In the west part of the south side starts a curved hole passing through the entire stone, from south to west. The inside of this hole is very smooth.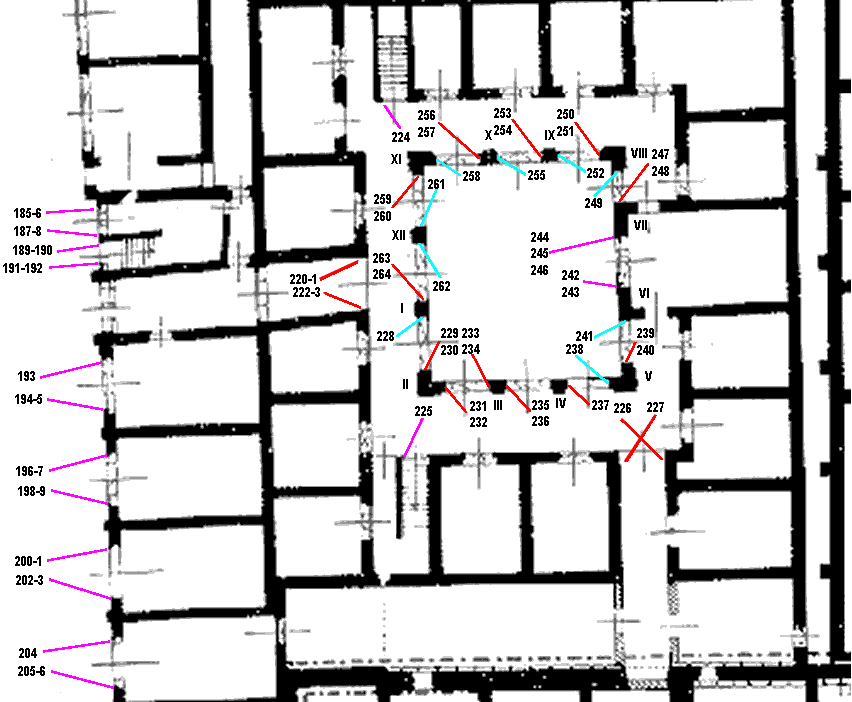 Plan of the building. After SO I.
Measurements
Meas. according to VdM. The starting height of the low centralized stones lies between 0.45 and 0.65; av. l. 0.20, av. h. 0.13. The high stones start between 2.05 and 2.50; av. l. 0.18, av. h. 0.13. The stones at mid-height start between 1.15 and 1.25; av. l. 0.18, av. h. 0.12.
Cornerstone 244: starts at 0.50; l. 0.19, w. 0.32, h. 0.14; diam. of hole passing through the stone: 0.04. Cornerstone 245: starts at 1.21; l. 0.33, w. 0.29, h. 0.26. No meas. of the other cornerstones (246, 242-243).